In the late 1960's, Butch McGuire purchased all the old window decorations from Goldblatt's department store.
At first, the employees used a great combination of intoxicated-creative minds and ladders (not always the best combination) to decorate the bar. The real magic and tradition began when a group of Chicago Firefighters volunteered their time and creativity. It was their idea to hang the decorations from the ceiling in order to conserve space around the bar.
Eventually, after 30 years, the artificial garland began to deteriorate and the 10lbs/foot of decoration were no longer easy to hang. A few of Butch's friends suggested lights and a train and everything began to take shape.
Butch was instrumental in starting "Santa Claus Anonymous" to ensure kids had warm clothing and holiday cheer. While Santa Claus Anonymous is no longer around, Bobby, Butch's son, continues to focus his efforts on the Chicago Mercy Home for Boys and Girls to help kids in need. Every train you see running above your head at Butch McGuire's today is sponsored with generous donations to Mercy Home.
So far this year, we have already raised over $18,000 from train sponsors alone! Thank you to all our generous friends & customers for helping us continue to give back!
9th Annual Toiletry Drive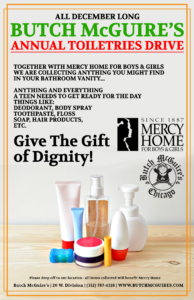 In the month of December, we will be collecting toiletries for the kids at Mercy Home. They need everything from toothpaste and deodorant to barrettes and body spray (basically, everything a teenager needs to feel like they can succeed daily). Every day, there are hundreds of kids who get ready for school at Mercy Home and they can use some help tackling the day.
Ornaments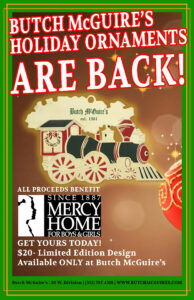 Take the Butch McGuire's Holiday Spirit home with you. Ornaments are only $12 each (2 for $20), and all proceeds benefit the Mercy Home for Boys and Girls.
That's a lot of giving back, and that's what the season is all about!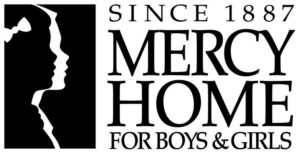 Ugly Sweaters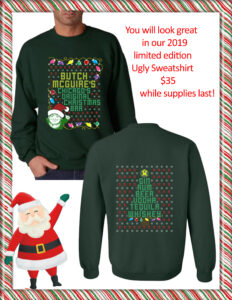 The best collectible gift of the holiday season is back in stock and available ONLY at Butch McGuire's
Cheers!